Tooth loss is more of a problem than just what meets the eye. The appearance of missing teeth can cause embarrassment. But in addition, just one missing tooth can lead to oral and general health concerns including an increased risk for tooth decay, additional tooth loss, gum disease and even malnutrition. Therefore, replacement is essential. Unlike other options, dental implants replace both the root and crown of missing teeth, which makes them the most lifelike tooth replacement.
Benefits of Dental Implants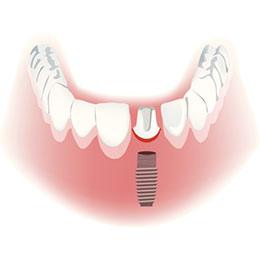 What makes dental implants better than, say, a bridge or denture? Because a dental implant stands in for both the root and crown of a tooth, it resembles a natural tooth more closely. The implant secures the crown, so you are able to enjoy any food without having to worry about a denture that slips or a partial that pops out. You will also be able to smile and speak with complete confidence. In addition, having an implant surgically positioned in your jaw helps you look younger. When you are missing a tooth, you are also missing the root. Without that root, your jawbone lacks the stimulation needed to encourage healthy new bone tissue growth. Consequently, the bone begins to melt away, making your face look sunken and older. This can also occur when you wear a denture or partial that rests on top of your gum ridge. And unlike other prosthetics that must often be attached to other teeth in order to remain in place, dental implants stay in place all on their own.
Indications for Dental Implants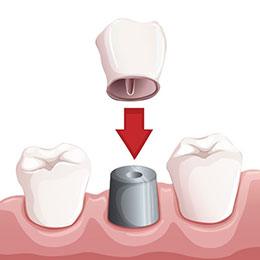 Most people are qualified candidates for dental implants. If you are in good general health and you are willing to commit to a strict oral hygiene routine, then dental implants could be right for you whether you are missing one or more teeth.
Missing Single Tooth
If you are missing a single tooth, then Dr. Baldwin will place one implant to support an implant-retained crown. He will position the implant to take advantage of the most bone density at the site.
Missing Multiple Teeth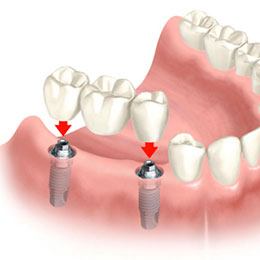 For several missing teeth, Dr. Baldwin will place two dental implants that support a bridge. The bridge will consist of crowns that attach to the implants and false teeth to fill the gap in your smile.
Missing All Teeth
If you are missing all of your teeth in one arch, then implant-retained dentures, All-On-4 or Teeth in  a Day could be the perfect solution. You and Dr. Darweesh will decide which option is best for your  particular set of circumstances, your lifestyle and your budget.
Understanding the Cost of Dental Implants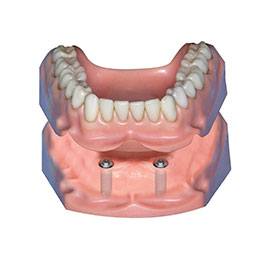 The cost of dental implants depends on several factors. First, there is the fee for the minor oral surgery required to place the implants. Then, there is the cost of abutments (connectors between the implant and restoration) and the type of restoration you need—a single crown, a bridge or a denture. So while these can make dental implants cost more than other tooth replacement options, you need to consider the value of your investment. Dental implants are designed to last a lifetime when they are given proper care. And with a success rate of 98 percent, dental implants could give you a reason to smile for the rest of your life!